Material crane baskets from ELT's are designed for long-lasting rugged jobsite use and are made to exact customer specifications. All material baskets are designed in accordance with ASME BTH-1, manufactured and tested to the specifications of ASME B30.20 and are completely OSHA compliant.
ELT Lift's engineering team designs each project in collaboration with the customer before it is released to the production floor which is home to the highest skilled engineers and draftsmen in the industry. The production of your material crane basket will be efficient and precisely monitored from the first discussion through final drawings, delivery and installation in the field.
Model CMB – Standard Quote
Crane Material Basket (CMB)
CMB-042042-4000
4 ft 2 in x 4 ft 2 in x 4 ft | WLL: 2,000 – 4000 lbs Custom Sizes and capacities available Includes optional casters and solid bail
Crane Material Basket (CMB)
CMB-0202-1000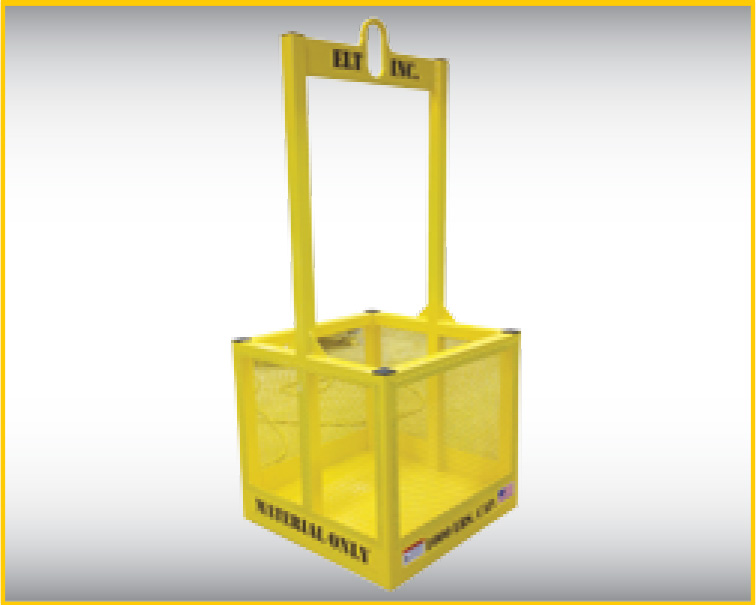 2 ft x 2 ft x 2 ft with 3 ft Upper Arm | WLL: 1,000 lbs Custom Sizes and capacities available Unit designed to fit into small areas.
As a result of extensive experience across all forms of lifting devices and situations, many requests for lifting device design already have partially completed plans available, facilitating rapid turnaround time in getting products into production and off to the customer. Our lifting device design capabilities include:
Significant experience in designing standard and custom lifting devices
Up front communication with customer to determine best solution for them
Proven design automation methods
Up-to-date compliance with relevant codes and standards (ASME B30.20 and BTH-1)
Exclusively designing in the state-of-the art 3D environment (currently run on Autodesk Inventor)
Using Finite Element Analysis (FEA) software for design verification
Verifying the design of all lifters through in-house load testing of up to 200 tons
Contact Us by form here or call 855-800-9568 to speak to one of our product experts today to learn more about our safe, durable, and long lasting material crane baskets that are built tough by ELT!
| | | | | | | | | |
| --- | --- | --- | --- | --- | --- | --- | --- | --- |
| Model Number | Capacity (lbs) | Inside Length | Inside Width | Inside Height | Outside Length | Outside Width (in) | Outside Height | Product Weight (lbs) |
| CMB-024-024-1000 | 1000 | 24 | 24 | 24 | 28 | 28 | 65-1/2 | 190 |
| CMB-036-036-1500 | 1500 | 36 | 36 | 24 | 42-1/4 | 42-1/2 | 28-1/2 | 260 |
| CMB-042-042-2000 | 2000 | 50 | 50 | 52 | 57-1/16 | 57-1/16 | 60-1/4 | 736 |
| CMB-042-042-4000 | 4000 | 50 | 50 | 52 | 57-1/16 | 57-1/16 | 60-1/4 | 800 |