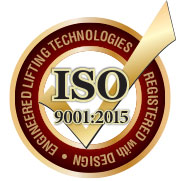 ISO Certification & ISO Registered
Engineered Lifting Technologies (ELT) of Buffalo, NY, announces that the company has received ISO 9001:2015 registration with design. This registration will help ELT in their continuing effort to provide their valued customers with superior quality for all products on every order.
NSF-ISR assessed ELT's quality management system via a two-day comprehensive audit and found it to be in compliance with ISO 9001:2015 with no exclusions. ISO 9001:2015, Quality management system Requirements is an internationally-accepted standard that provides a universal baseline for quality management.
ISO 9001:2015 specifies requirements designed to improve a quality process within all areas of its business, including meeting customer and regulatory requirements. The standard focuses on customer satisfaction, leadership, involvement of people, process approach, system approach to management, continual improvement, fact based decision-making and mutually beneficial supplier relationships. When implemented, these principles have been proven to enhance organizational performance.
Engineered Lifting Technologies Statement of Quality Policy…
ELT will provide our valued customers with superior quality for all products on every order.
STATEMENT OF QUALITY POLICY and MISSION
We are committed to improving our business by providing products and services that our customers value, creating systems and operations to deliver that value, and assuring that continuous improvement is our constant goal.
Scope of Registration
ISO 9001:2015 : Designer and manufacturer of custom lifting products such as personnel and material crane baskets, lifting and spreader beams, C-hooks, fork lift attachments, and other similar below-the-hook material handling and wind turbine lifting products and equipment. Provider of custom engineered lifting solutions including full in-house design, testing and certification of lifting equipment. Manufacturer of high load multi-rotational bearings and expansion joints for highway and railroad bridges.
To maintain ISO registration, ELT will be audited annually to verify that quality objectives are being met.


If you have any questions regarding the ELT  ISO 9001:2015 Registration,
please feel free to call 1-888.358.5438 or contact us.